CUSTOMIZING CURRICULUM AND LEARNING ECOSYSTEM FOR BANK MANDIRI IN DEVELOPING BALANCED & AGILE MANDIRIAN IN A DIGITAL WORLD
In order to undergo the transformation process towards "The Best Bank in ASEAN", in 2020, in terms of market capitalization, profit, and other non-financial perspectives, Bank Mandiri needs to recruit and develop employees who are reliable and competent in facing business and technology challenges in the future.
The results of the digital banking survey conducted by Pricewaterhouse Coopers (PwC) Indonesia on banks in Indonesia show that as many as 66% of respondents, who are senior executive bankers in banking institutions in Indonesia, have developed digital strategies as part of the company's strategy. This is done because digital disruption has entered the banking world, so a number of banks in Indonesia consider digitalization as part of the company's strategy (Fauzia, 2018).
Reflecting on this, Bank Mandiri appointed BINUS CREATES to prepare its to face the challenges of the digital world business through the Bank Mandiri IT Level 1 program in July 2018 with a theme "Developing Balanced & Agile Mandirian in a Digital World". The curriculum, assessment, and participant profiling is specially designed for Bank Mandiri by aligning Bank Mandiri core values, IT technical competencies, leadership and other soft skill needed in Digital Era with BINUS CREATES framework, project based learning, and Lumina approach.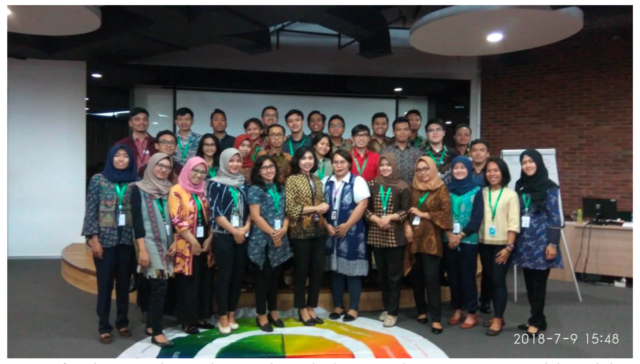 Knowing Yourself Session by Pingkan Cynthia Belinda Rumondor, S.Psi., M.Psi. from Psychology Department BINUS University
Class ecosystem and participant engagement are two essential components in learning execution. The selection of BINUS FX Campus give a great vibe for the learning effectiveness. A studio class can be directed easily and coaching session also conducted well.
System Thinking for Decision Making Workshop and Studio Class by Samuel Mahatmaputra, S.Kom., M.Info.Tech. from Faculty of Computing and Media BINUS University
Referring to the learning objective, the output of this program is a prototype app half-functioning that accommodates almost all IT framework shared in the class including mobile programming, UI/ UX, API, IT security, database design, and agile project management. Hopefully, these young talents can bring great impact to the bank for their up-to-date applied knowledge, teamwork for co-creation, good communication skill, and perseverance attitude.