I LEAD BY EXAMPLE – MAKE PRIDE ALIVE THROUGH EFFECTIVE LEADERSHIP & FOLLOWERSHIP
Towards the end of 2018, BINUS was again trusted by Bank Bukopin to provide a Management Development Program (MDP) for 22 new prospective employees.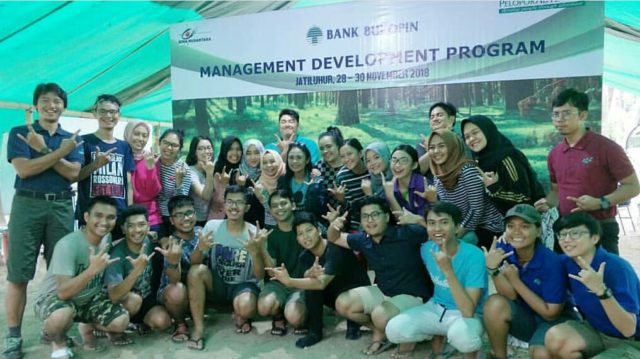 Before participating in the in-class training which will be held for 35 days, the participants must attend the outdoor training first. This training was held for 3 days and 2 nights by taking place in the Jatiluhur Reservoir, West Java. This training applies the experiential learning method, where participants will be directly involved in the learning process so that knowledge becomes more embedded in the minds of the participants.
The activity which took place on 28-30 November 2018 was themed "I Lead by Example – Make PRIDE Alive Trough Effective Leadership and Followership". This activity was carried out to refresh corporate values, abbreviated as "PRIDE", in the form of behavioral emergence in the field.
In order for the process of refreshing company values ​​to be achieved to support prospective leaders within the Bank Bukopin, the participants were given a stimulus in the implementation of this program that would bring up:
Personal Drive

Empathy

The player team in developing collaborative solution

Open mindedness

Co-Creation & Champion of change

Creative and innovative

Customer centric

Risk & social awareness
Thus at the end of the training, participants will be able to:
Explain the importance of the role of leaders as role models in reviving PRIDE as a cultural value of Bank Bukopin.

Describe the need to hone behavior that reflects PRIDE, as part of leadership development and self-development.

Identify opportunities for implementing behavior that reflect PRIDE consistently in everyday life and make plans for implementation.