BINUS Startup Accelerator Batch 4 is OPEN!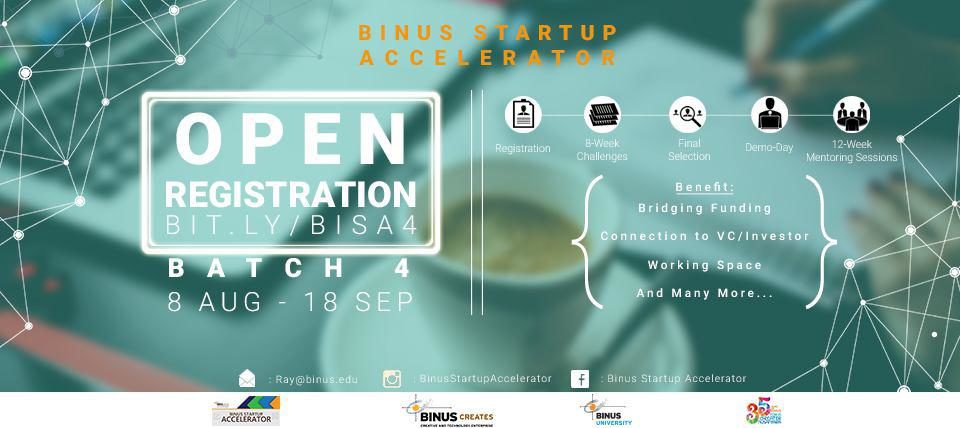 After awhile, Binus Startup Accelerator (BiSA) batch 4 is back. With new faces and curriculum, 4th batch is hopefully gonna be more challenging and fun for the startup enthusiasts. Based from experiences and analysis from previous batches, this 4th batch will focus the selection on market validation, where BiSA will only selects startups with MVP or beta version ready.
The selection program will also not only be based on the proposal, but also there will be challenges. Together with other startups and corporate, the challenges will be given once a week to see and determine the enthusiasm and spirit of the startups  that will join the BiSA batch 4. Startups and corporate who will help giving the challenges as judge mentors will be from some verticals industry that hopefully may help the startup registrants in the future.
The challenges will take 8 weeks starting September 22 to November, where startup registrants will be judged in terms of gut as an entrepreneur, will and perseverance, and spirit. At the end of the challenges week, there will be final selection where startup registrants have to pitch their progress during the selection program.
Only 3 startups will be selected to join the BiSA batch 4, where the selected startups will get the benefit of not only bridging fund, but also working spaces, business administration support, and also networks to investors, corporate, and VCs.
As mentioned before, startups need to have MVP/beta version ready to register. Products in the area of commerce, fintech, agriculture, and education are encouraged to apply. The registration is also open not only for BINUSIAN active students, but also graduates (max. 2 years after graduating).
So if you think you have the guts of an entrepreneur, and you think you are ready to take this challenge, REGISTER YOUR STARTUP HERE now and we'll see you on board!