BINUS Startup Accelerator 2014: Creating Something out of Nothing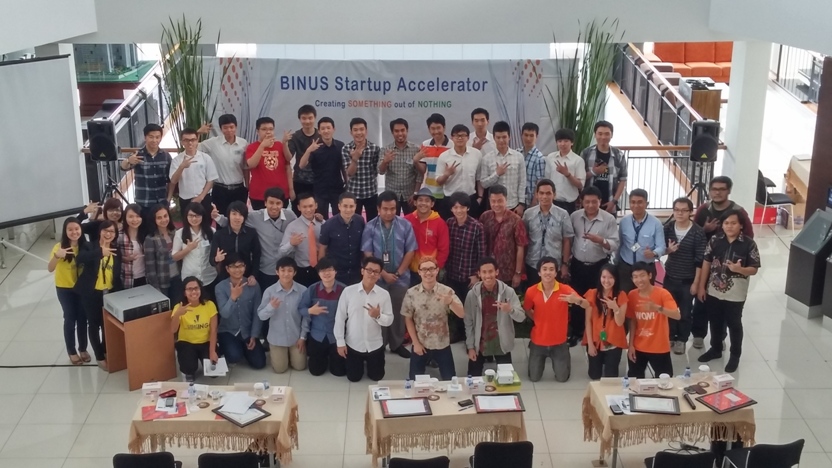 On December 10th – 11th 2014, BINUS Startup Accelerator had finally picked 3 startup teams to join 12-week-acceleration program, where the teams will get not only seed funding, but also mentorship, business networking, access to office facilities and technologies The pitching session was done through 2-day bootcamp.
Prior pitching day, there were internal judging session to pick 8 startup finalists: Craesia, Conquest of Maiden, Starnesia, Inixio, Mallpedia, Ennouns, Info Diskon, and Dolprint. Upon choosing the finalist teams, they got the chance to join technical training series from lecturers, Telkomsel, and startup founders Stephen Kohar and Suitmedia about platforms, design, and business model canvas and financial plan. By getting trained, finalist teams can improve their business proposals to be pitched on 2-day bootcamp.
Technical Training: Strengthening the Ground
The idea about giving technical training to finalist teams were to polish the presentation deck of the team for pitching. Technical Training were first done on last week of November, delivered by Telkomsel, Software Laboratory Center of BINUS University, Suitmedia, and Stephen Kohar. There were several trainings given according to the roles in the team, such as platform and UI/UX for hackers and hipsters and business model plans and financial plans for hustlers. Upon providing trainings, the finalist teams must revise and adjust their presentation deck.
After one week revision and adjustment, finalist teams were given elevation pitch and presentation deck trainings. Prior the training, there was pre-pitching session by Digital Media Development (Pak Danu Widhyatmoko), School of Design (Pak Arsa Prada), and Academic Product Knowledge Center BINUS University (Irine Marcella), where the finalist teams presented their ideas in 7 minutes.  There were lots of inputs and suggestions for the finalist teams to improve more before the bootcamp.
2-day Bootcamp: Creating Something out of Nothing
Boot Camp was the 2 final days for finalist teams which has one day sharing and mentoring and one day pitching. Held in Hall of Fame, Anggrek Campus BINUS University, it was indeed exciting days for both finalist teams and other students who attended. Fulfilled with startup founders and venture capitalists, the first day was more about sharing and mentoring sessions. First off, Natali Ardianto (CTO, Co-founder of Tiket.com), Ahmad Zaky (CEO, Co-founder of Bukalapak.com), and Calvin Kizana (CEO, Co-founder of Picmix) shared their first experiences in startup. On the second session, Calvin Kizana (CEO, Co-founder of Picmix, who is also a BINUSIAN alumnae, shared about his lesson learnt and breakthrough he's been gone through on being technopreneurs. The first day of Bootcamp was closed with the discussion with venture capitalists; Nicko Widjaja (Managing Partner at Indigo Ventures), Steven Vanada (VP at Cyber Agent Ventures) and Andrias Ekoyuwono (Managing Partner at Ideosource). There was so much information shared about investment and venturing startup that was shared by them.
Beyond bootcamp day one, the mentoring was the most waited session for every finalist teams. Mentored by 8 startup founders: Ferry Tenka (CEO of Bilna), Danny Baskoro (CEO of EVoucher), Anggit Tut Pinilih (CEO of Jakpat), Fung Fuk Lestario (CEO of Rupawa), Khresna Bayu Aji (from Tequila Digital), Sumartok (CEO of Tripvisto), Yudhi Mandey (CEO of Wavoo), and William Tunggaldjaja (Country Manager of Zomato), every finalist team got the opportunity to have one-on-one discussion about presentation preparation, product concept, value preposition, business viability, and many things. There were two mentoring sessions on day one where the finalist can use to ask and discuss with these startup founders to prepare the pitching day on day two.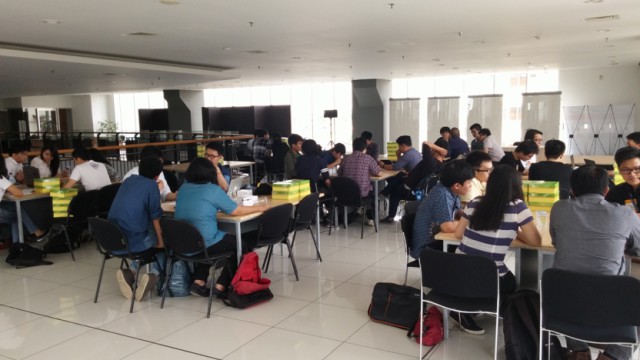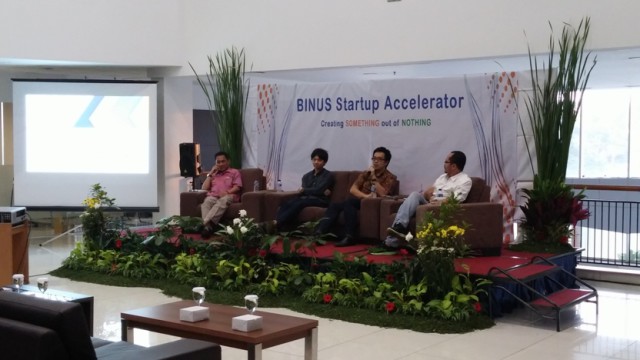 Pitching day was the D-day for every finalist teams. After opening session from Telkomsel, the pitching were delivered by six judges; Ken Imamura from Kejora, Anindito Respati from Telkomsel, Steven Vanada from Cyber Agent Ventures, Marcelinus Winarta from Strategic Management of BINUS Group, Franky Hadinata from School of Computer Science, and Agustinus Dedy from BINUS Business Creation. Every team had a 12 minutes chance to show up their startup ideas, where there were then only three startup teams were choosen: Starnesia, Info Diskon, and Ennouns.
For the winning teams, BINUS STARTUP Accelerator provide 12-week mentorship, access to office facilities, series of company building activities, go-to-market support, and seed funds of IDR 20 millions, or total value will be IDR 100 millions. The incubation program will start on February 2015.