English Teaching Program in the Land of the Dragons
Komodo Island, the land of the dragons, is known as one of the poorest provinces in Indonesia. The barren lands and the lack of marine products symbolize the poverty that storms the lives of the people there. In concern of this issue, BINUS Creates, in corporation with Yayasan Komodo Kita and Bank Mandiri, decided to create a project called Train of Trainers. The project aimed to make the quality of living in Komodo Island to be better by making an English teaching program for the local people. The program was designed to improve the capability of English speaking amongst the local people by teaching the participants how to teach English in communicative and context-based approaches.As one of the most promising tourism spots in Indonesia, being able to communicate English language decently is one of the keys to excavate the potential of tourism in Komodo Island.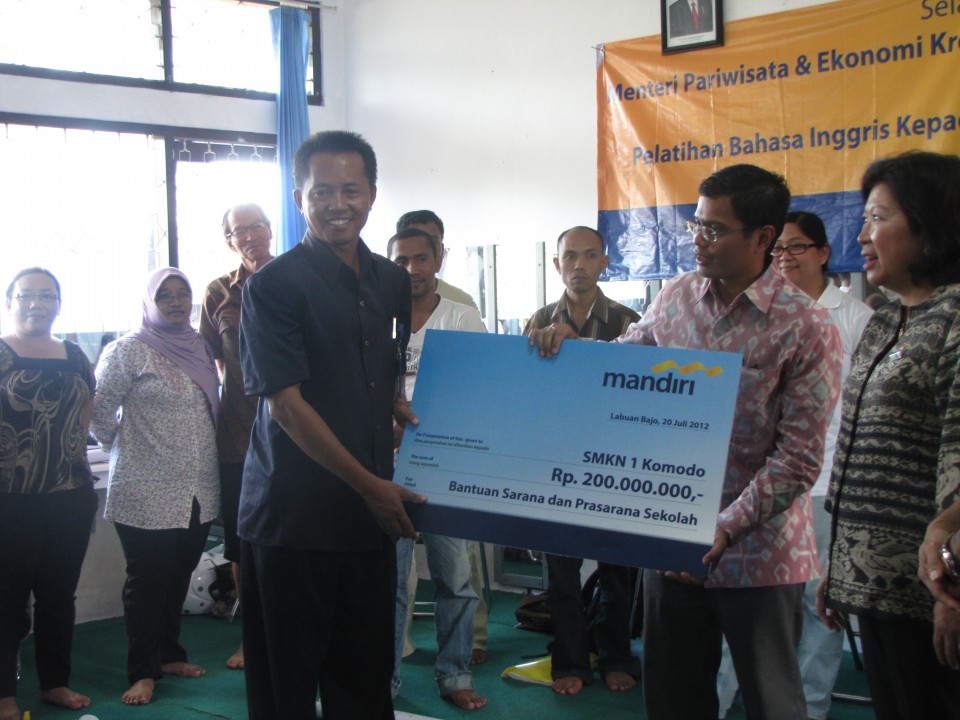 Bank Mandiri contributed in the development of education in Komodo Island
Going through a strict selection phase, 20 potential participants were selected to join this program in Labuan Bajo, Komodo Island. In executing the program, BINUS Creates was supported by Irfan Rifai, the deputy head of English Department, along with Wiwik Andreani and Yani Susanti, the faculty members of English Department, from the Faculty of Humanities of BINUS University. This 15-day program was prepared with structured English teaching materials to devise an effective learning program along with supportive teaching equipment. The program introduced the participants with various teaching concepts along with the knowledge of how to design materials for English class applicable in various contexts. In the final phase of the program, the participants were also demanded to perform teaching practices in front of other participants by preparing a lesson plan, materials and teaching aids to measure the result of the implementation of the program.
The participants looked serious in participating in the group work.
Despite the fact that the participants came from different backgrounds, the program has resulted in a satisfying outcome. The enthusiasm of the participants in participating in Train of Trainers have signaled that they had a great eagerness to help Komodo Island to become one of the most famous tourism spots in Indonesia. Train of Trainers endedwith the optimism coming from both the participants and the lecturers with the fact that most of them were ready to teach.
"We are really happy here because we are able to help people to learn English. Right now, I am teaching in Rinca with around 80 participants. The people are really welcome with the courses", said Vino, one of Train of Trainers participants. Vino and the other participants have started to teach English in several regions in Komodo Island like Rinca, Kampung Tengah and Papagaran Island.It is hoped that with the combination of flexible communication and the beauty of vast biodiversity, it will eventually makes Komodo Island to become one of the top tourism spots in Indonesia.