BINUS International School Simprug Video Profile
Being one of the top schools in Indonesia, BINUS International School Simprug supports its students with international standard facilities that will help them in discovering their true potential. In order to make the parents to be familiar with the qualities that it offers, BINUS International School Simprug decided to create a video profile to introduce the parents with the standard that they have. BINUS Creates, as an experienced institution, was entrusted to run the project. In this project, BINUS Creates worked with the experts from the School of Design of BINUS University, who are Mr. Gregorius Barry Carvey Widjaja, S.Sn, Mr. Satrya Mahardhika, S.T., M.Mult and Mr. Ahmad Faisal Choiril Anam Fathoni, S.Sn.
The concept of the video was to promote BINUS International School Simprug as one of the few schools that is supported with the most modern and best facilities combined with world-renowned International Baccalaureate (IB) Programmes, which are Primary Years Programme (PYP), Middle Years Programme (MYP) and Diploma Programme (DP). Most of the schools in Indonesia have not implemented IB Programmes and only teach the students to become passive learners. On the other hand, IB Programmes are designed to encourage the students to become active and enthusiastic, where two-way communication happens.
In the making of the video, the team also involved the students, the teachers, the alumni, the parents and even the principal of BINUS International School Simprug himself, Mr. Peter Matthew Saidi. One of the alumni that also contributed in the video profile is Angie Theresia, which is an alumna that had achieved international achievement by receiving prestigious Sir William Siemens medal award 2013. Angie's achievement proves that the educational experience that BINUS International School Simprug offers is really helping the students to shape their world of possibilities, their future. The team also focused on the facilities provided by BINUS International School Simprug, such as visual arts & music studios, learning centers, health clinic, indoor basketball and badminton arena, science laboratories, etc.These facilities symbolize the integrity and the commitment from BINUS International School Simprug to make sure that the students will receive the best educational experience.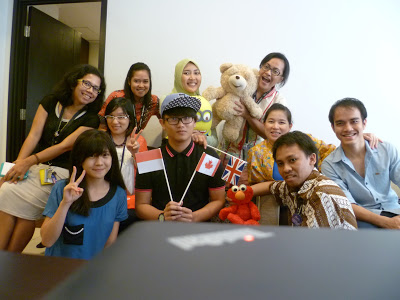 The team that helped the making of BINUS International School Simprug video profile