Dermawan Syamsudin, S.Sn., M.Sn.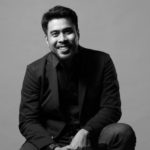 Manager, BINUS Animation Studio
Dermawan, or Deddy, earned his bachelor degree and master degree in Arts in Institut Kesenian Jakarta. Prior managing Binus Animation Studio, he was already active working at BINUS University as a lecturer and also the Head of Program of Animation at Binus University School of Design.
Aside to his extensive experience in higher education lecturing, for example in Lasalle Colleges international, Institute Kesenian Jakarta and Digital Studio Collages, Deddy  also has experience handling 3D animation projects for TV Commercial for some brands like Sharp, BII, Matahari Dept Store, Telkomsel, Daihatsu Ceria, Sinar Mas, Sea World, Unicef, Garuda Food, amongst other. He also manages himself asguest speaker and key note speaker at some conferences like Design and Animation Be Inspired at Trisakti University, Workshop 3D Animation at Gramedia, Jakarta, National 3d Animation Conference at Universitas Kristen Satya Wacana, Conference with Jogja Animation, and MNCTV Conference.
Contact Deddy: email