Jerry S. Justianto, M.B.A.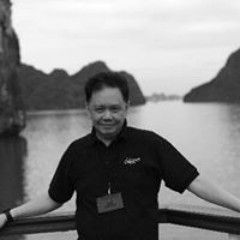 JERRY S. JUSTIANTO has 29 years experience in IT/digital business. Jerry started his career as MIS Associate in Herbert Chock & Associates, Inc. Honolulu.   As CEO of Primavera Pro Solusi Jakarta,  Jerry had succeeded to make Primavera Systems to become the industry standard in Indonesia.  He was the founder of  DoThink, a system development for intranet information applications, RadioClick, SearchIndonesia and AgroIndonesia.  Currently,  Jerry acts as Managing Partner of Masima Corporation (Radio and Broadcasting).
In digital business, Jerry is well known as the Chairman of Association of Asia Pacific Advertising Media (AAPAM), KADIN Indonesia: Vice Head for Creative Industry in Media,  before that in KADIN Indonesia: Vice Head for Broadcast Industry.  Currently, he is a  BeKraf member of curators Satu Pintu.   Jerry was the  Founder of Forum Radio Jaringan Indonesia, "Indonesia Radio Network Forum", a nonprofit organization of companies or individuals who run and own three or more radios in Indonesia. He also was awarded as Entrepreneur of the Year 1999 by Swa Magazine.
He has been a prominent speaker about digital marketing, among others : Speaker on Great People Great Development, a leadership program in PT Telkom (2017), speaker  with Michael Slaby, Chief Innovation Obama for America, at @America (2013), speaker for  Voice of America on the future of Digital Radio, Bandung (2011), Keynote speaker at Indonesia Marketing Forum on Social Media – Swa/Mix (2010), speaker on New Technology for "Simposium Nasional Periklanan Indonesia" (2008) and speaker on "Speculating the Future of Google" in Asia Pacific Media Forum 2006.
Jerry had his B.Sc of Computer Information System from Hawaii Pacific University Honolulu, HI, MBA in International Business Chaminade University Honolulu, and MBA in Finance from Hawaii Pacific University Honolulu, HI.
Jerry teaches Strategic Internet Marketing and Creative Digital Marketing in Binus Business School